Good Morning All,
Mike Davis asked me to share this big news with you, (and I just invited him to come teach a class for us, so let's make that happen - who's interested?). Also several folks here on the forum have asked what the school is and how it came to be, so here is the story and the big news:
5 years ago my wife and I moved back home from research and teaching at the National University of Costa Rica. We decided to pursue an ambitious life goal to build a community-inclusive academy that would "preserve, promote, and advance the heritage of woodworking in North Carolina". We named it the
North Carolina Furniture School
to honor our state industrial heritage. We began by holding private classes at my home and group classes at my cabinet shop. As it grew, I sold my interest in the cabinet shop and relocated the school to a rented building in Ayden. Over the last year we have been searching for a permanent home for the school, with the right mix of environment, accessibility, community, cost, and proximity. We came
very
close to moving the school to downtown Raleigh, but couldn't get that move dialed in just right so it felt like we were trying
too hard
to put a square peg in a round hole. We searched diligently in a 100 mile radius of Raleigh for that
right
place.
Along came Farmville. A progressive and burgeoning little arts community located 15 min. west of Greenville, 15 min east of I-95, and just one hour due east of downtown Raleigh on U.S. 264. They have numerous multi-million dollar developments ongoing in the downtown area, excellent art galleries, Artist studios, the East Carolina University glass blowing facility, a mix of established and boutique restaurants, an excellent history museum, numerous Air B&B's, strong biopharma, manufacturing, and commercial agricultural employers, and they are committed to promoting arts and education in the community. So after some serious negotiation, we bought a downtown building directly across the street from the ECU Glass Station. Here is a sneak peek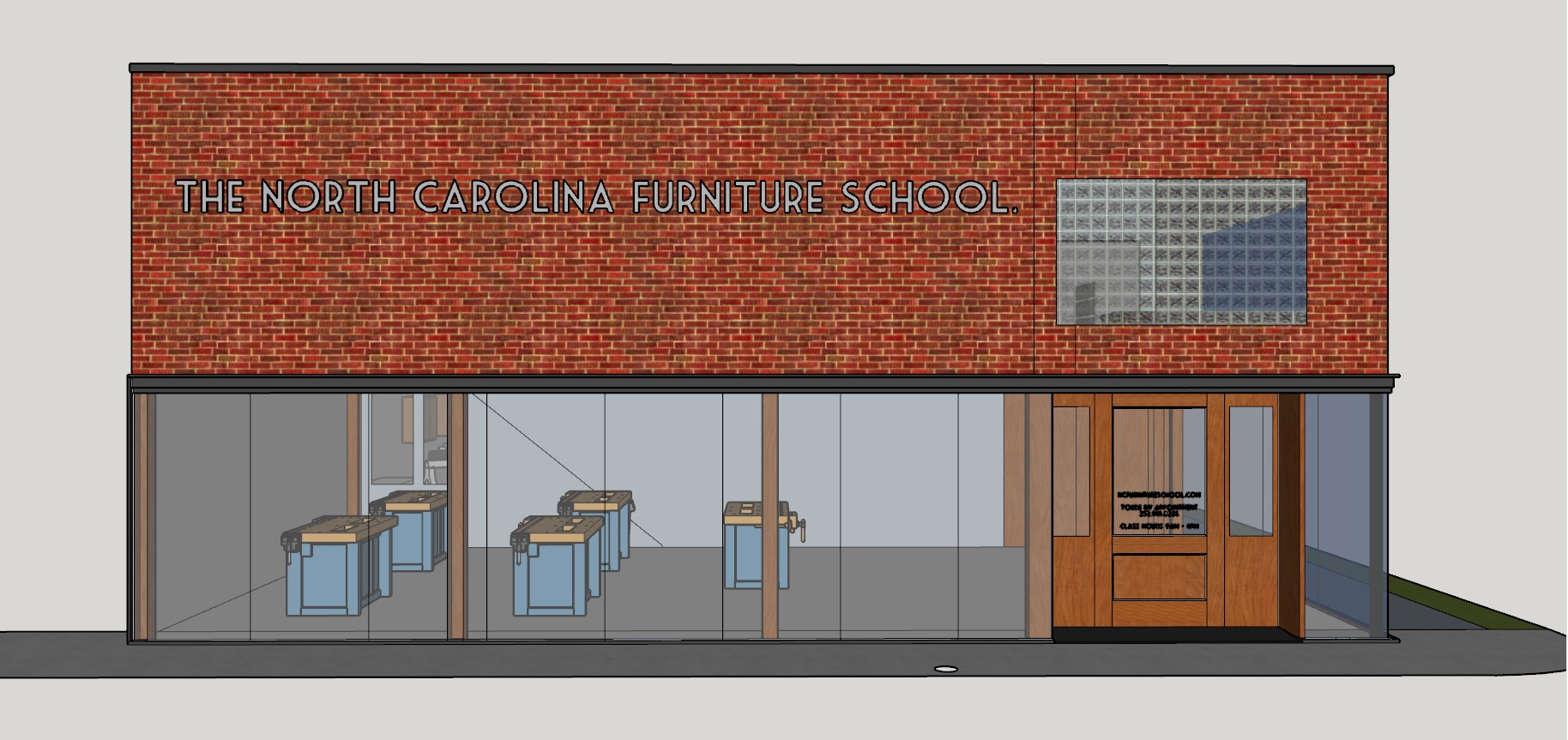 This move will nearly triple our square footage and allow us to add programs, classes, and demonstrations that have not been possible to this point. We are building a premium bench room with 5 Shaker style benches for traditional hand tool classes, plane and jig making, and what I call advanced portable electric tool classes (think 'Festool' woodworking). We are also strengthening our relationships with Shopbot and Autodesk to start digital fabrication courses at all skill levels beginner to advanced in CAD, CAM, & applied 3 axis and rotary axis CNC. Additionally we are also expanding the woodturning classes to include advanced courses in segmented work, large scale turning, production work, etc. We are expanding the woodturning studio to include 8 fully equipped, full size machine stations, with new machines from Robust and the innovative new Harvey T-60 25" lathe (2hp servo motor and digital control). We will have a new multi-use area that will be a clean area classroom with a projector and flat screen, a large conference table, drawing and layout equipment, an in-house library for books and periodicals, and a living materials library for physical identification and design work. The new climate controlled shop will have central
and
local dust collection with a pair of Harvey G700 Gyro Air processors, overhead ambient air filtration, and a central cyclone. We will also have shop-wide compressed air for pneumatics and general use, four table saws (two 10", one 14", and one 16" rip saw), two bandsaws (14" & 36"), two planers (12 1/2" & 20"), a large jointer, dedicated rough and fine cross cutting stations, 2 spindle shapers, a full size router table, a machine joinery station with dovetail jigs, pocket hole jigs, slot mortising, chisel mortising, and a sanding station with a pedestal bladder sander, stationary belt, disc, and spindle sanders (and long term plans to find a large edge sander and commercial down-draft table) The shop will also have an outdoor work area for chainsaw safety and use workshops, welding and metal fabrication and forming (for woodworkers -
not
for serious welding - there are places and people better suited for that), a basic blacksmithing area (think bench implements and simple fixtures). We will continue to be Eastern NC's only purveyor of fine woodworking equipment, premium lumber, and workshop supplies. There is more, but you get the picture, this is serious.
We are also proud to be the home of the NCFS Turners woodturning club and are actively recruiting new members for anyone that might be interested. We are a simple woodturning club, focused on turning and learning.
For 2019 - 2020, we will host several special events and new classes including; a second Women's Woodturning Weekend (last year we had 38 in attendance from 3 or 4 states [can't remember exactly]), we are planning a Workbench Intensive Class with Jim McConnell (co-founder of Mortise & Tenon, author for Popular Woodworking), hand tool and sharpening classes, plane making, LOTS of new woodturning classes, machine safety classes (think table saw and shaper...), design classes, digital fabrication classes, and we are bringing in the very best demonstrators in the world for special classes like Mastering the Skew with Nick Cook (this fall hint hint). We just got back from a foreign immersion trip to Ireland where we took a class with Master Woodturner Glenn Lucas, and we are now planning our woodturning trip for next year to New Zealand!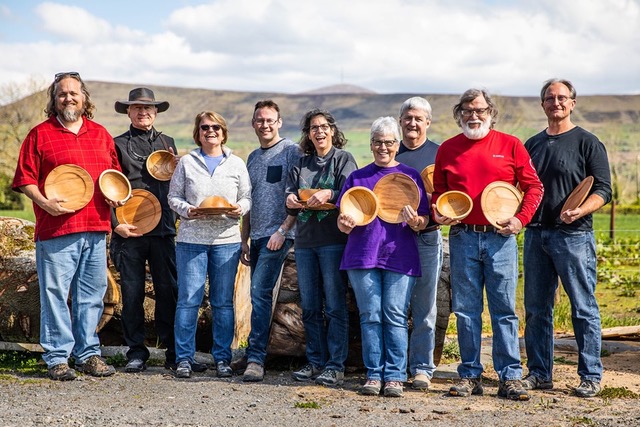 We can use all the help we can get, to make this a premier woodworking school in North Carolina and welcome donations, ideas, and good old fashioned elbow grease. We want people to understand that this is a community endeavor and that our door is open to anyone interested in woodworking at any level. This is a chance to make sure our craft doesn't go into the darkness. It represents an opportunity to make sure it is curated, advanced, and promoted for future generations. Built in a manner that fosters meaningful exploration, entrepreneurism and even scholarship in this field. We invite you to join in and look forward to meeting new folks this year. We will open the doors to the new facility later this summer and renovations will continue through the coming year. Thank you for taking the time.
Stuart.
Last edited: