Board of Directors, Development Director
Hank
Corporate Member
Thank you to
@Mike Davis
for getting a jump on discussing this wonderful event.
If you missed it here is the thread:
https://ncwoodworker.net/forums/index.php?threads/extravaganza-october-21-22-2022.76029/#post-706917
I want to encourage everyone from NCWW to at least attend for a day (especially if you are looking for a deal on tools or other things for our (business, craft, hobby)!
But what I am hopeful for is volunteers, committed volunteers who will sign-up and show-up to help man our booth at the event.
First of all, it is NOT a lot of work, but it IS a lot of fun. You get to meet members of this wonderful site as well as other like-minded people attending the show.
Second, this is our chance to get the word out about the forum while supporting Klingspor who is one of our avid and vocal supporters.
A BIG shout-out and thank you to those of you who have already committed to helping.
ScottM, Barry W, MRfixit71, Johnny R, Mquan01, Roger 45, Berta, Chuck Moreton, Michael Mathews
We will need people for the following spots;
Thursday set-up (many hands make light work) we will likely start between noon and 1:00 with hopes to wrap-up by 4:00 or 5:00 at the latest.
Friday - Greeters, Safety (the greeter and the safety person may be one in the same or two people sharing the duties), Various Demos, Lathe, Scroll Saw, there may be more openings if we choose to do bird houses or other projects we have done in the past
Saturday - Greeters, Safety, Various Demos, Lathe, Scroll Saw etc. (as above)
Please post on this thread;
1. Your NCWW handle AND your full name, 2. When you plan to be there (day and time) and 3. What you would prefer to do
Here is are sign-up sheets I have created and hope to have filled LONG before the event. (Note that I have 10 slots for demos for Friday and 8 slots for Saturday. (Dependent upon your demo and the space you require, we may need to shift things around time-wise or space-wise)
Unfortunately, you will not be able to fill these out here on-line, but if you follow the instructions above I will fill it in for you.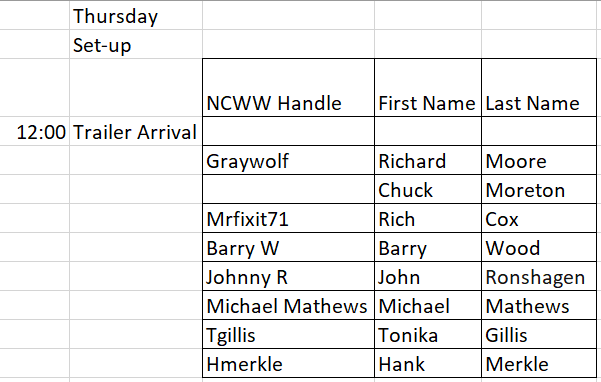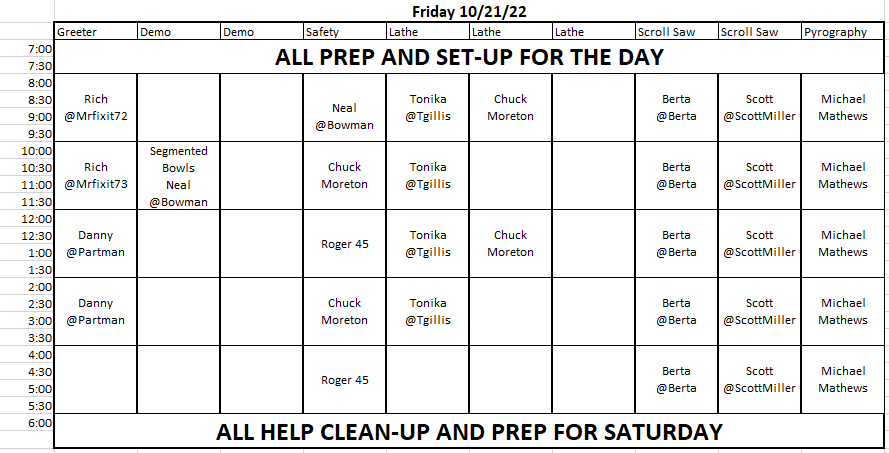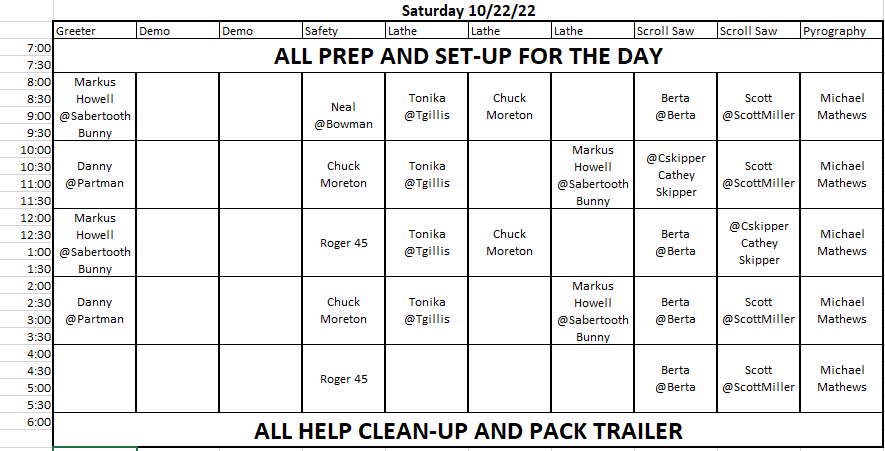 Last edited: