Above is the start of a post of a table build.
Its been a while since I posted some work I have been doing but I finally had some time to step back and do something with a table. The table is a trestle style but it has some unique elements to the design and I added a couple to suit my fancy.
The legs are interesting but the table is built around the design of a slab of walnut 17" wide and 58" long being cut and bookmatched for a special top. I hoped. I have done several of these and thought it would be a walk in the park as so to speak.
I took the slab(17wide x 57"long x 2") down to Scott Smith(walnut not from his stock I might add) and he helped me open the slab into 2 equal pieces that match as desired. Troubles immediately followed.
As soon as the boards separated, they began to cup the entire length. One board was worse than the other. I thought I could bring it back to level at the time but things got worse before they got better. The small crack at the top of each board went from small to 12" in.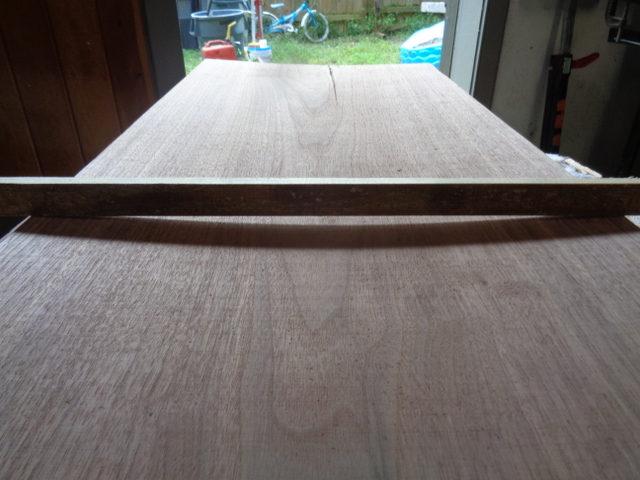 This is after spending a day in the sun hoping it would equalize. No luck. Imagine folks it was almost 1/2" cup.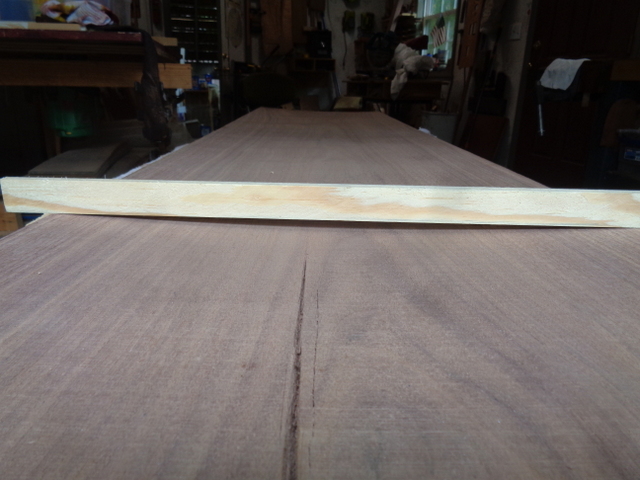 The stress crack just kept getting bigger.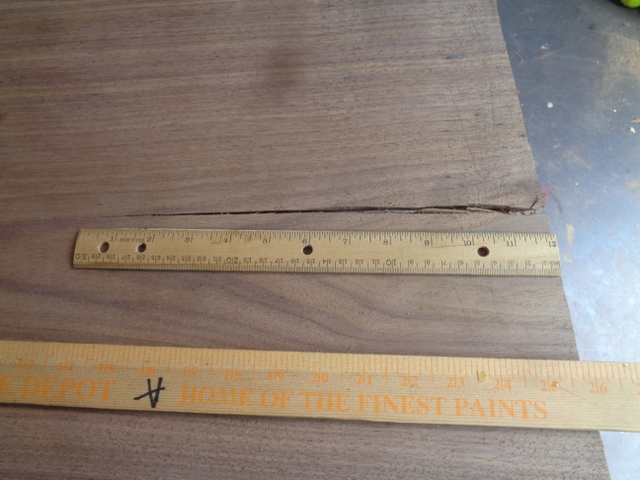 When I came out to check on the cup arc, I found the 5" crack was now 12" in from the good edge.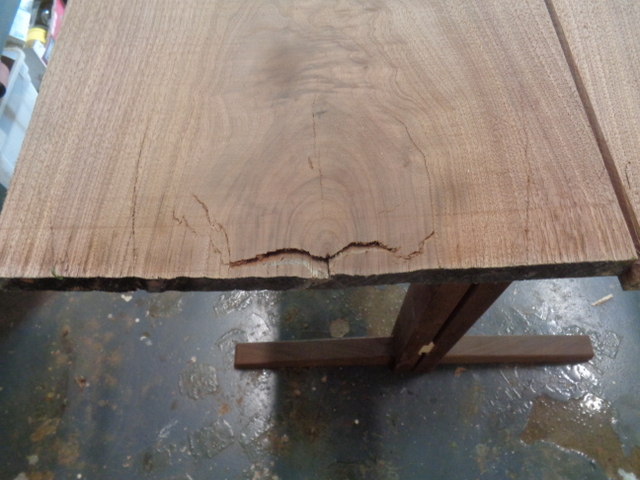 When I flipped the board over the pith began to separate from the face. This was the deal breaker for me.
When I decided on the walnut I understood it was kiln dried and stable. Well?
As you can imagine with wood on the north side of 10bf, this is a bust indeed. Yes some of you might think just cut it into narrow strips and glue them up like a picnic table. If that's what I had in mind at the start, I would have used boards from my piles.
So there maybe light at the end of the tunnel: the 2 boards are 16" wide x 57 long x 1" thick and they will soon be for sale at a reduce rate in the near future.
This has been a disappointment indeed as I have done this with air dried wood and had no issues at all in the past. Makes you wonder?? I take no comfort in patting myself on the back with my old argument that air dried wood can be just as stable as the oven cooked stuff. Yes there can be bugs.
This business of working with a living material is full of surprises. Unfortunately, this one didn't work out. I'll post something when I pull my head together and find some good stock.
till then
Last edited: