I got a fairly inexpensive socket chisel on eBay to see if I could restore it to working order. It is 1.5" wide. No maker's mark, pretty big grinder gouges on the top (ownership marks?) and some cracks in the steel visible on the back near where the socket starts. The back was not especially flat initially and that took the most time to address. I did get the whole back flat, although I didn't polish the whole thing.
One interesting thing is that it has leather washers on the end of the handle (some are missing now) but also it has its neck cranked slightly like a slick, so the socket and handle just clear the plane of the chisel bottom. I might still try to replace the leather washers for appearance's sake but I doubt I will be hammering on it due to the cracks. I don't know what purpose a chisel with both the slightly cranked handle and leather washers has, but I am not really an expert in chisel variations either.
I got the back flattened, edge squared off and bevel re-ground on the grinder, and then sharpened it up. Unfortunately the edge seems to fail much more quickly towards one corner of the blade than the other, especially on end grain. I can get it so the whole blade shaves arm hair, but in use the right 1/3 or so of the blade easily gets chips and nicks similar to when you have too low of a bevel angle. I'm still trying to figure out if that's my fault and if I can fix it. The back doesn't seem less polished on that side and I don't
think
I overheated it on the grinder but I guess it is possible I let it get away from me without noticing. I tried rubbing a needle file on the middle of the bevel and neither side seemed terribly different.
All in all it may not end up being a reliable user with the cracks and whatever is going on with the uneven wearing but I think I learned a lot.
Some of the photos of the back and bevel before: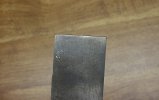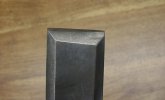 After: