I am new to wood working; however, I enjoy challenges. One of my first projects this year was making a chess board. It provided plenty of challenges for sure. I chose this project for several reasons. 1) My son and I play chess and thought a board would be a nice gift. 2) Thought I would learn a great deal of skills and by doing this project. (Wood selection, table saw use, clamping, gluing, biscuit joinery, routing, use of cauls, sanding, and different finishes. 3) One of our members is my neighbor and had excellent advice and collaboration with me along the way.
The picture below is of the completed Board. ~18x18 ¾" thick made from Walnut and Hard Maple.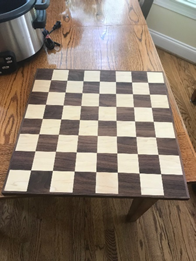 This board came out really nice not perfect, however above what I expected for a first project.
So, I thought I would make another one for myself. And this is where I am learning that woodworking is teaching me humility. The 2nd board is not as "friendly" as the first. The boards strips are bowing. I am about to put biscuits in and then glue and clamp to get it straight and flat.
I am anticipating that I won't be able to get all the bowing out and will need to plane it down to get it flat.
Does anyone have a planer or drum sander large enough to handle an 18x 18" ¾" board and would provide that service if I need that?
Any thoughts on this project? Advice and input greatly appreciated.
Thank you, Linc