I just wanted to pass along some helpful information. I've made several boxes over the last few years, and one thing I always dreaded was installing the hinges or locks because the screws were so darn small and weak, they would often break off. Even when I use a steel screw first, I would occasionally run into the issue. This was especially true when building with the denser exotic woods.
Well, about a year ago, I was wandering around Woodcraft and saw these gimlets (link below). I remember my father-in-law using these several years back. I decided to pick up a set (they are only ~$5) and have not had a single broken screw since. Problem solved.
Now, I mark the placement of the hole, pre-drill, run the gimlet in, then install the screw (with a little wax).
The perfect tools for starting holes for those pesky small screws. Set includes 2mm, 3mm, 4mm and 4.5mm. Perfect for screw sizes #2 thru #4.
www.woodcraft.com
I hope I can save someone the frustration of breaking off a screw in a project you were so close to finishing.
Here's a few pics of some of the boxes I've built...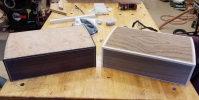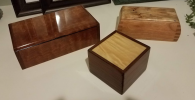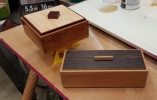 Stay safe.