Originally I planned to make the bed from curly/figured maple, but 1) I don't have enough of the curly maple and 2) at the time I only found hard maple for $7.99 bdft. I planned maple because it was part of a mixed lumber deal I found on FB marketplace.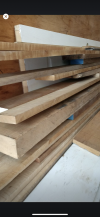 I thought about driving up to NC, but time is an issue. So I called a sawyer that I had previously purchased hickory from. He had just cut a maple log, so it's no where near ready, but he has plenty of hickory—and my daughter, for whom the bunk is being made, likes the different colors found hickory.
A few hours later I'm home with three slabs (actually 6, but we cut down the 12' slabs to 8' and 4'). And the milling begins.



Hickory needs sharp planer knives! After planing:

My FIL has a drum sander, so several passes later:

New knives to be installed in planer and hopefully run the rails through the planer tomorrow.
Bunk bed is loosely based on this design: