I've been using this COVID lock down time (working from home) to practice my hand cut joinery (between meetings
). I was tired of having to get all of my tools out of storage when needed and decided to make small tool totes. One for my router plane set, one for my hand planes and one to house the various tools for joinery. I also needed to practice before making my father-in-law a nice retirement keepsake box (was my first time working with cherry). I used reclaimed pine for the tool boxes/totes.
First up was the router plane box. This pine had some really nice grain including some bird's eye and amazing chatoyance sorry the cell phone pics do not show this. Primarily wanted to gain confidence in dovetails here before making the cherry keepsake box. Finished with spray lacquer. The router plane is routed in for a snug fit and I left room for more blades and just screws for the blade & fence holder to future proof the box. The lid hand hold is cherry and I used bamboo skewers as dowels to hold the sliding birch ply lid. I do not really like the lid design but it works great and I wanted to allow room for my fingers to grab and pull vs an inset or flush lid. The lid is set down for the top to act as a lip so I can place the router plane on top during project work for quicker access.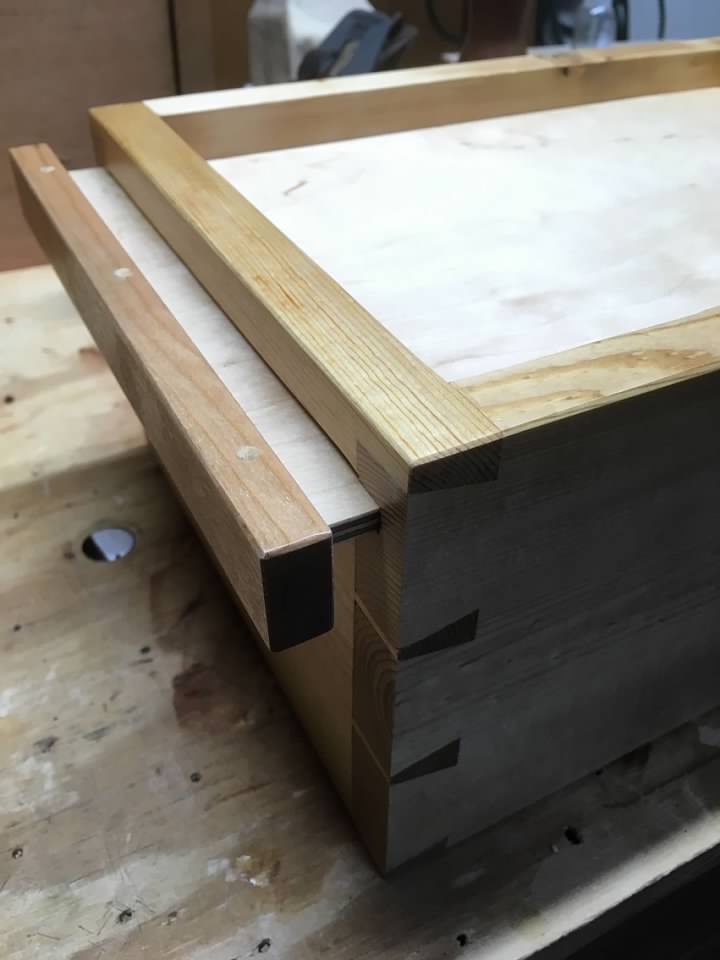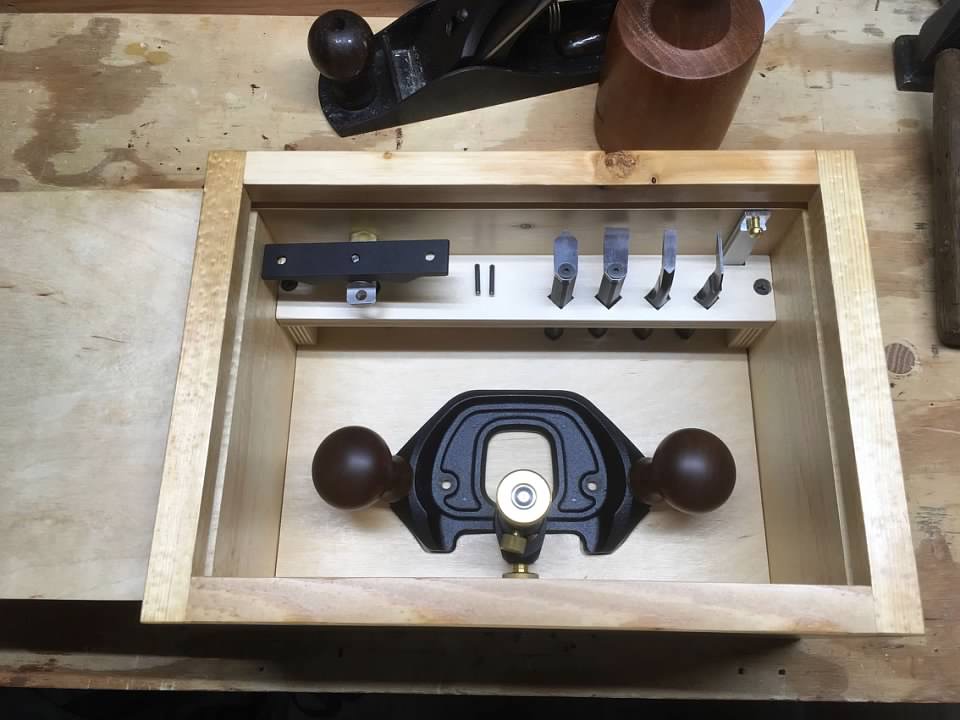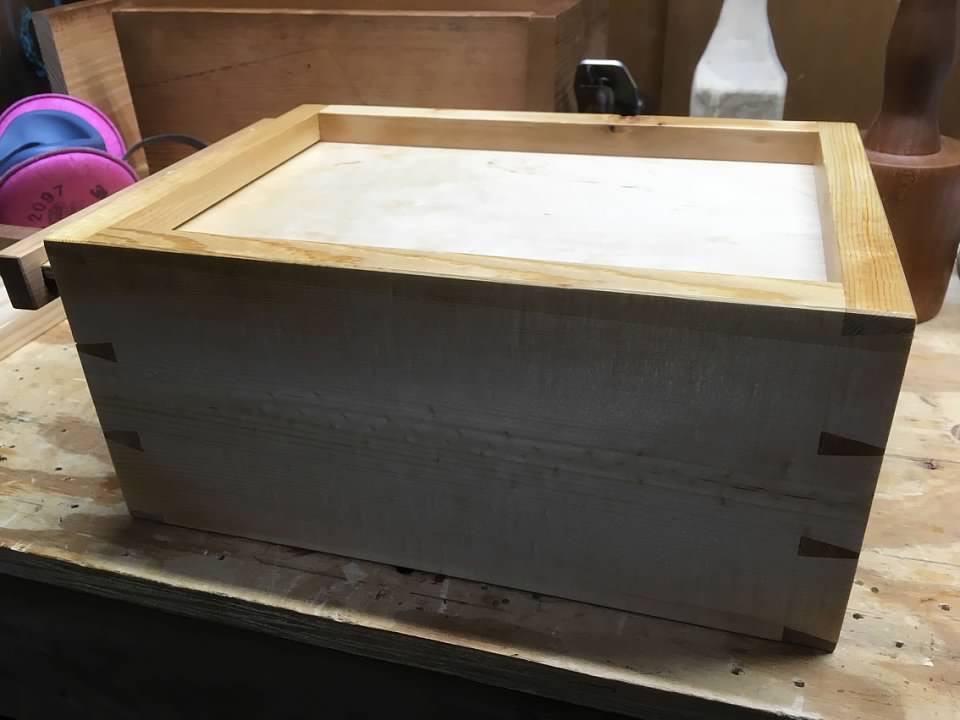 Next was the cherry box w/ mitered lid and mortised hinges. I only had 1 week to take this project from a single board to finished so I did use the table saw to rough out the miters and trued them up via shooting board. He was in the airline maintenance industry so we wood burned relevant logos and used colored pencils. Finished with spray lacquer. I would've liked to resaw the pieces as 7/8" thickness is way too bulky visually but I only have access to a small benchtop bandsaw and no time to hand resaw and plane each piece (which I've never done...yet).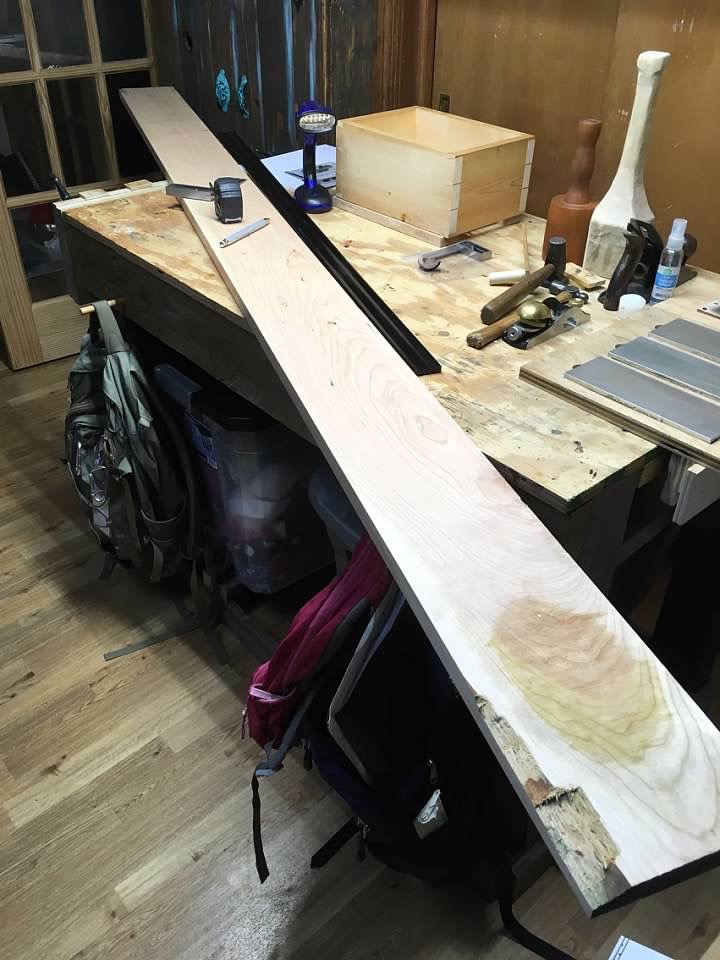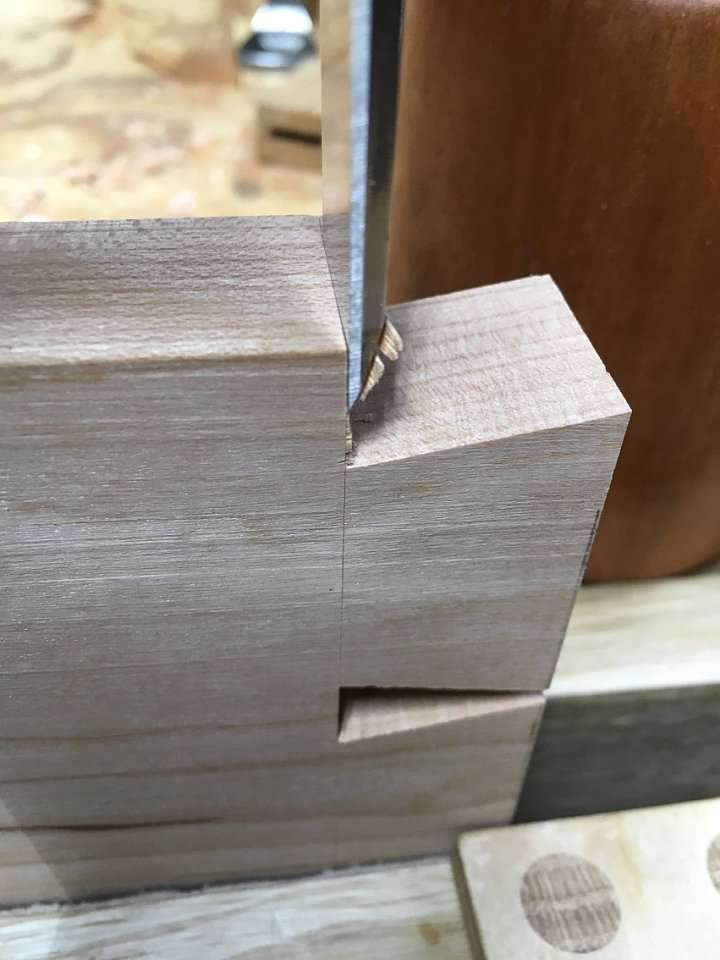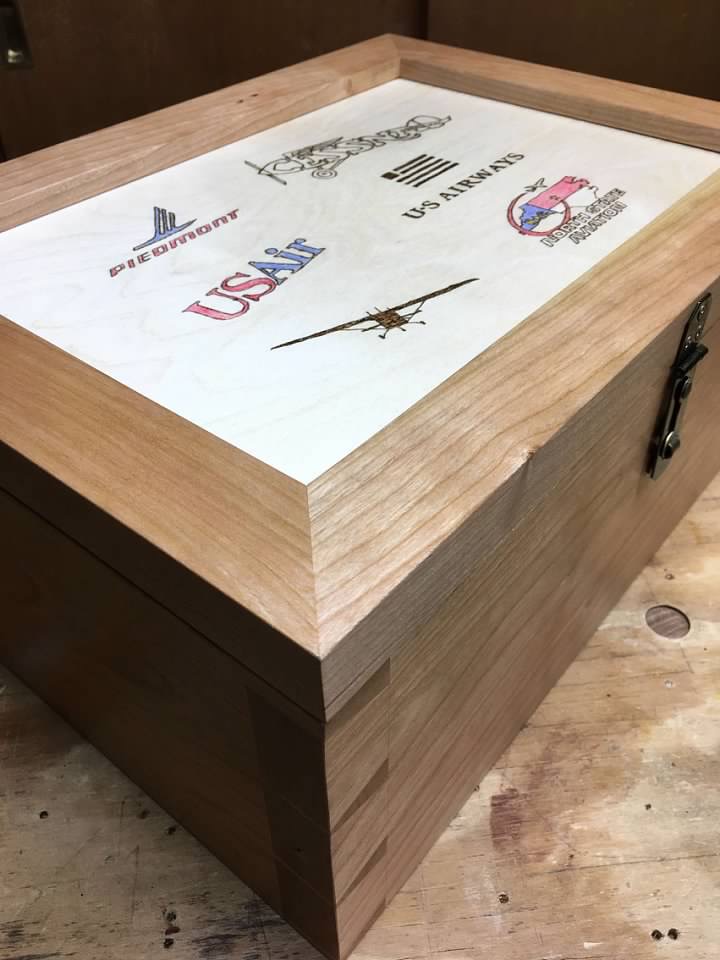 Next was the joinery tool tote. Working w/ reclaimed pieces I was limited in the amount of material on hand so unfortunately the butt joints are not visually appealing with the sides butt to the end pieces instead of the other way around. I couldn't lose any length so I couldn't miter, rabbet or dovetail these joints. So, I elected for dowels. The hand tote / divider piece is leftover plywood and originally was set as through mortise & tenons. I didn't want to bang through these with my normal bench chisels, I do not have a mortise chisel so I elected to plunge route the mortises only to learn that I couldn't plunge all the way through. Upon coming through the other side I was off by ~1/16" which was enough to warp/twist the divider which created a non-flat project. The through tenons looked great though. With no good way to fix this I elected to scrap the end pieces and use 2 back up pieces I had of the same length, cut the tenons shorter and just made them into normal mortise & tenon joint, which was good practice too. I put no finish on this piece as I really liked the patina and do not care for it to get worse (character). It was tough fitting each tool into a specific spot but nothing moves a lot. Used lots of neodymium magnets as well.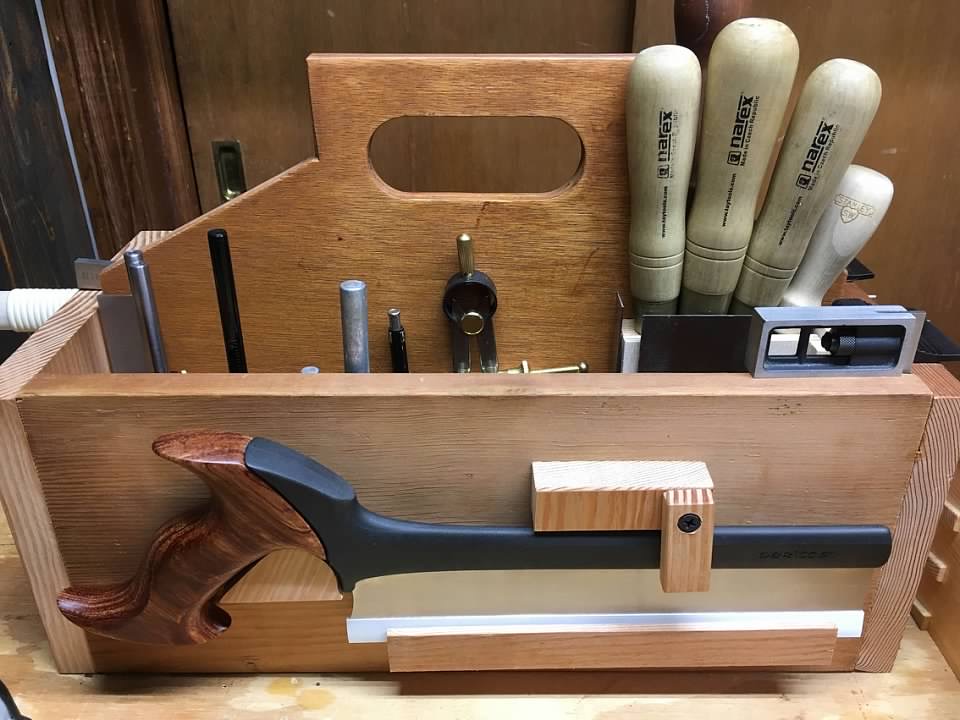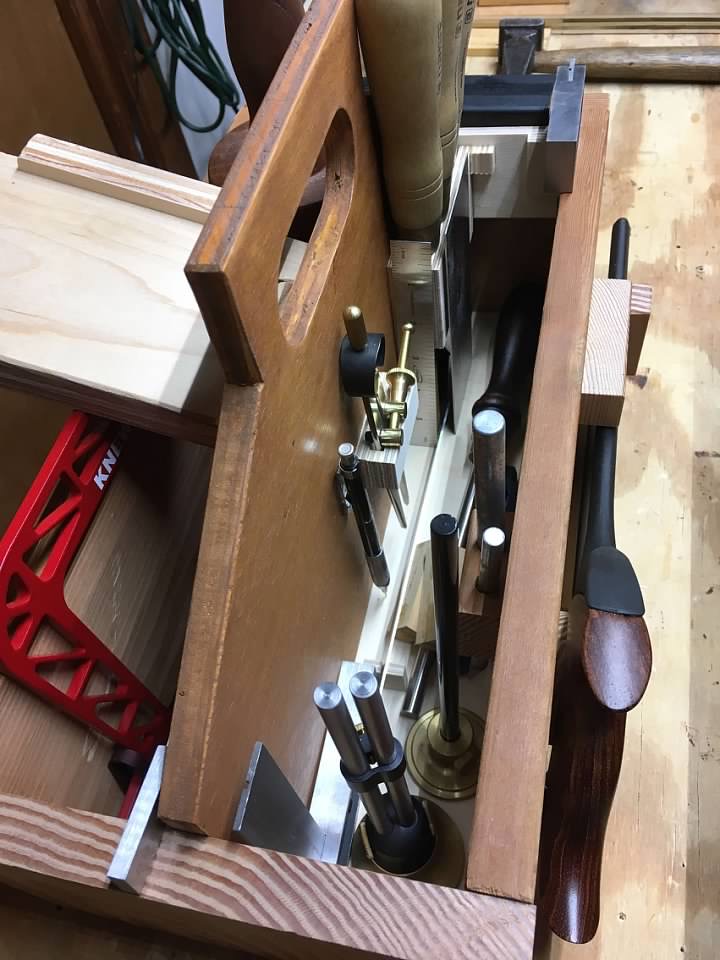 Finally, I made the hand plane tool tote. I wanted to try proud dovetails on this one. I also used the continuous grain method of aligning the pieces, which was fun. Again really nice patina, grain and chatoyance on these pieces too. I purchased really old looking handles from Hobby Lobby. Baltic birch bottom router in flush. Finished with a homemade beeswax / boiled linseed oil / mineral spirits finish. Have room for other planes or more blades for the Veritas LAJ.