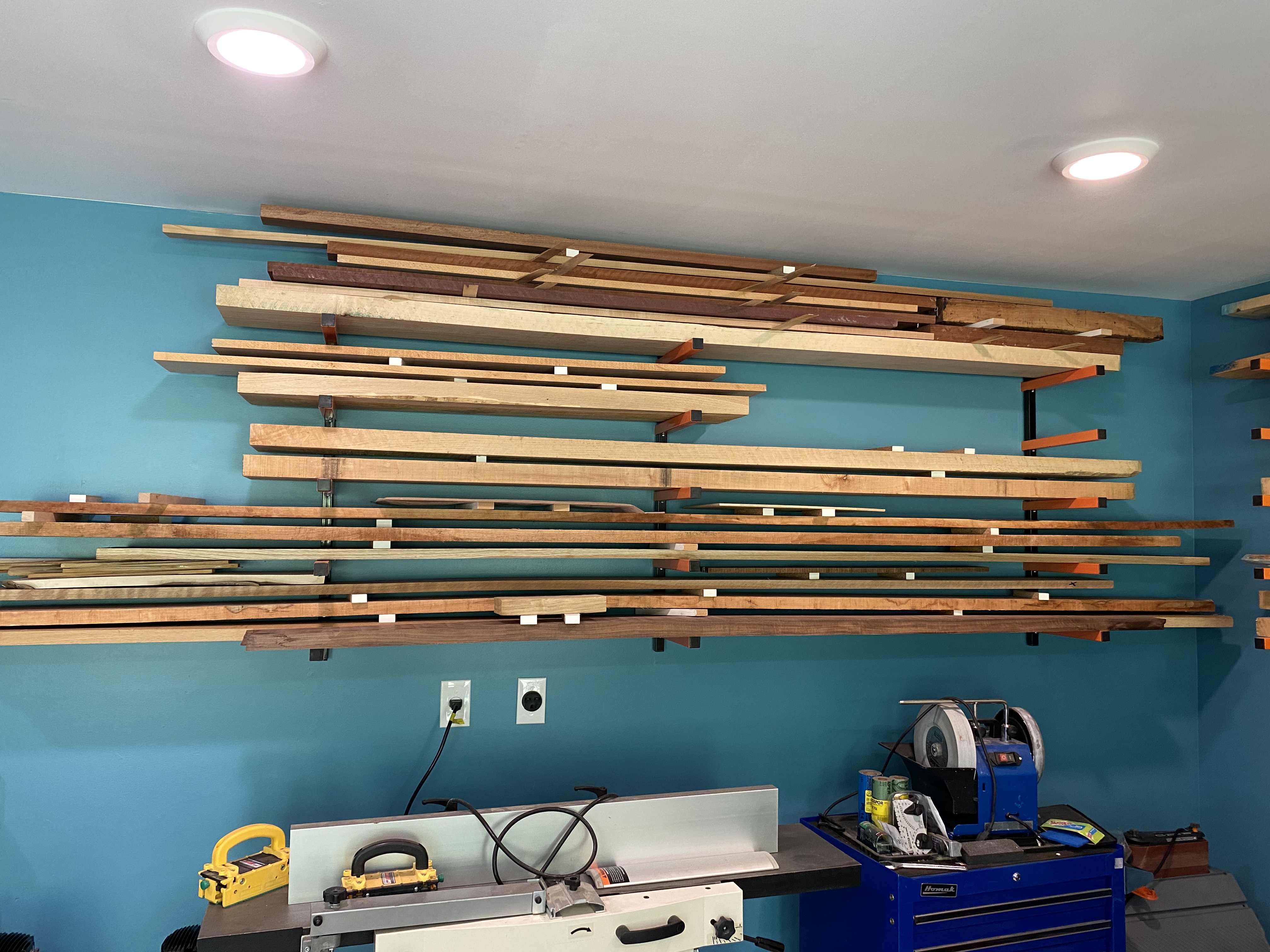 Selling 225 board foot of mixed lumber for $550 (approx 2.50/bd ft) as a lot.
Calculation of bd ft is actual rather than nominal (i.e. .75 inches rather than 4/4). All lumber was hand-picked from the Hardwood Store and has been kept in climate controlled environment. About half of the lot is soft maple.
Below find a list of boards and dimensions, keeping in mind that I prefer to sell this as a single lot and do not plan on piecing out.
Thanks!
| | | | | | |
| --- | --- | --- | --- | --- | --- |
| Board ID | Species | Length | Width | Depth | Board Ft |
| 5 | bubinga | 71 | 5.5 | 1 | 2.71 |
| 19 | bubinga | 36 | 2.5 | 0.5 | 0.31 |
| 2 | cherry | 96 | 3 | 0.75 | 1.50 |
| 4 | cherry | 82 | 7.75 | 0.75 | 3.31 |
| 7 | cherry | 71.5 | 7.25 | 0.75 | 2.70 |
| 11 | cherry | 49.5 | 7.5 | 0.75 | 1.93 |
| 12 | cherry | 59 | 7.5 | 0.75 | 2.30 |
| 17 | cherry | 121.5 | 10 | 1.25 | 10.55 |
| 33 | cherry | 109 | 7.75 | 1 | 5.87 |
| 16 | figured cherry | 132.75 | 8 | 1 | 7.38 |
| 20 | figured cherry | 120 | 4.75 | 1 | 3.96 |
| 25 | figured cherry | 27.5 | 6.75 | 1 | 1.29 |
| 26 | hard maple | 108.5 | 8.25 | 1.25 | 7.77 |
| 27 | hard maple | 85.25 | 7.5 | 1.25 | 5.55 |
| 36 | hard maple | 121.25 | 5.5 | 1.25 | 5.79 |
| 6 | purple heart | 63.5 | 10.5 | 1 | 4.63 |
| 18 | red oak | 120.25 | 7 | 1 | 5.85 |
| 1 | sapele | 66 | 4 | 1.25 | 2.29 |
| 3 | sapele | 66 | 3.75 | 1.125 | 1.93 |
| 8 | soft maple | 98 | 8 | 2 | 10.89 |
| 13 | soft maple | 49 | 9.5 | 1.75 | 5.66 |
| 14 | soft maple | 98 | 8 | 2 | 10.89 |
| 15 | soft maple | 98 | 8 | 2 | 10.89 |
| 23 | soft maple | 98.5 | 9.5 | 2 | 13.00 |
| 24 | soft maple | 98.25 | 8.5 | 2 | 11.60 |
| 29 | soft maple | 98.5 | 9.5 | 2 | 13.00 |
| 30 | soft maple | 98.25 | 9.25 | 2 | 12.62 |
| 31 | soft maple | 98.5 | 7 | 2 | 9.58 |
| 32 | soft maple | 98 | 10 | 2 | 13.61 |
| 34 | soft maple | 98.5 | 7.5 | 2 | 10.26 |
| 22 | walnut | 97.5 | 5 | 1.25 | 4.23 |
| 9 | white oak | 30.5 | 2.75 | 2.75 | 1.60 |
| 10 | white oak | 30.5 | 2.75 | 2.75 | 1.60 |
| 21 | white oak | 138 | 7.5 | 1.25 | 8.98 |
| 28 | white oak | 21.5 | 8.75 | 2.75 | 3.59 |
| 35 | white oak | 90.75 | 5.75 | 2 | 7.25 |