Building both a twin loft bed and a full-size loft bed, looking for recommendations on hardware. The mattress rails are 1.5in x 8in and the safety rails and a brace rail are 1.5in x 4in, all are centered on the 3.5in x 3.5in posts. I've been looking at using through bolts with cross dowels like these: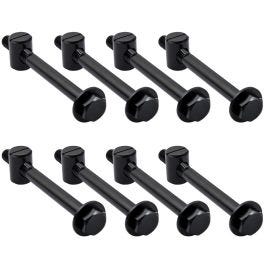 Ensure the joint on your trestle table, workbench, bed, or any heavy-duty project won't come loose!

www.rockler.com
I'm hoping by putting one bolt on each end of the safety rail and two on the mattress rail ends (along with one on each brace rail on the bottom backside) it will prevent the loft from wracking when kids are climbing on it.
Does anyone have any recommendations or tips on hardware to use?