Hey everybody, I made some Walnut Blanks that will work in a Bridge City Chopstick Master.
I have them listed on ebay for those that may want them shipped. I'm out in Wilmington NC, if anyone local would like to buy some.
I've got 37 sets of 20, and I'm asking for $20 dollars a set.
If you want some other than walnut, no problemo, just let me know what wood you are hunting.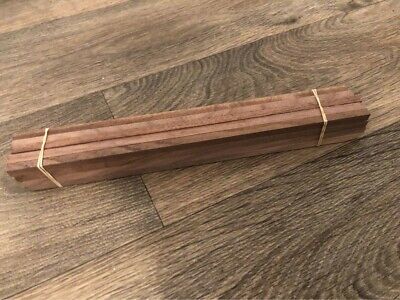 Each are in a set of 20. 10.630" x 7mm x 7mm. Also for the most these Blanks should be relatively straight, and if you have knots, it should be relatively limited, as I did a pretty good job of kicking out the defects.
The rules for the for sale forum said to put this here.
So a story for everyone that may want to know why on earth I decided to make these.
I met the Bridge City guys at the Klingspor Woodworking show in Hickory, and they alerted me that they were having difficulty finding blanks in Walnut, Teak & Cherry.
I was working somewhere that dealt in hardwoods at the time, and could have done it. We never did the job there & I quit there, and it took me almost a year to get a power feeder to cut the blanks.
Well I was also out of contact with them for a year which certainly didn't help.
I will say, Having met them, they are awesome people over at Bridge city.