I bought a used Rockler router table with lift last summer that was a huge upgrade over my previous set-up which was the exact same Rockler top and fence that I simply laid over saw horses in the driveway when I needed to do some routing. There was no lift, no dust collection (hence the driveway), and it wasn't especially convenient. My "new" table looked like this when I bought it. The on/off switch was just held on with a coat hanger.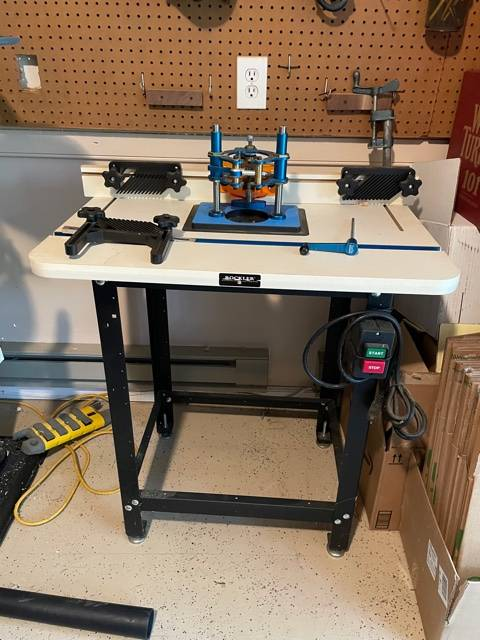 I added some casters and a DustRight box I found used on CL. It has a 4" fitting that draws through the router opening and a 2.5" fitting that draws through the fence. What an improvement! The only problem was that there is a lot of wasted space and no storage.
On the left is the drill press stand I built 20 years ago and never really finished with drawers as intended. I recently added the Bora mobile base kit and while I was making the router table drawer I decided to add some drawers to that as well.
I bought a sheet of 1/2" x 5' x 5' Baltic Birch for the drawers and had some 19mm Valchromat left over from my workbench project. The
Rockler plans
called for rabbets all the way around, but I thought that was unnecessarily fussy and just went with butt joints and glue. After some measuring, I also discovered that
my
Rockler table and the one in the article had
completely different
dimensions, so the article served mostly as inspiration.
The design is modular so you don't have to take the table apart, but I still had to loosen a few bolts to squeeze the side uprights in between the posts because my tolerances were a bit too tight. I skipped the bit racks because I didn't want to bend over to peruse my bit collection. I already have a nice router bit case on the wall at eye height. Instead I found 16" x 20" metal pegboards on Amazon that just happened to fit the side uprights perfectly.
Here is the general plan: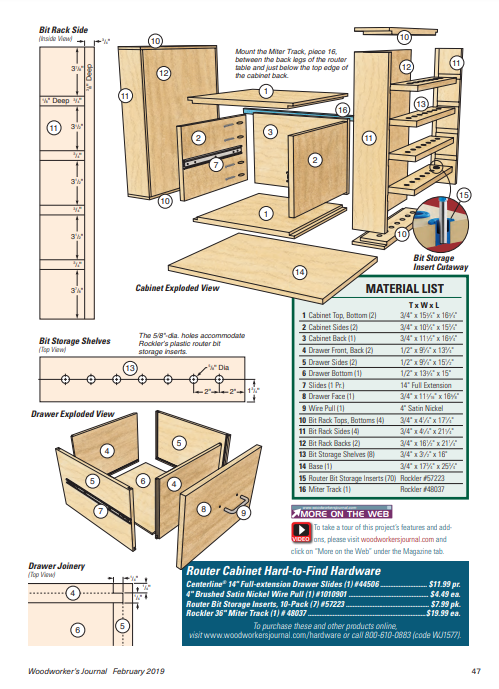 Here is the final product.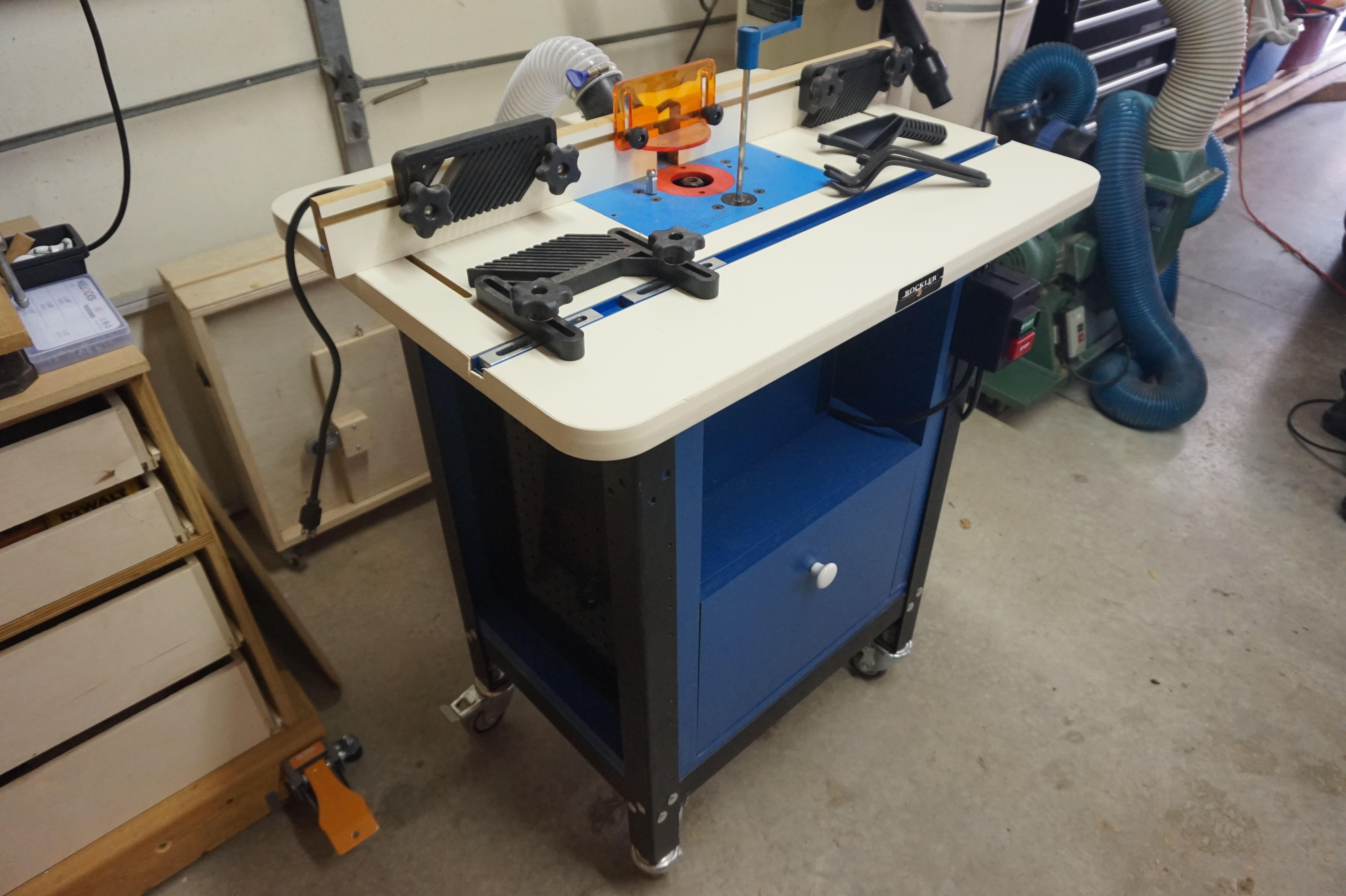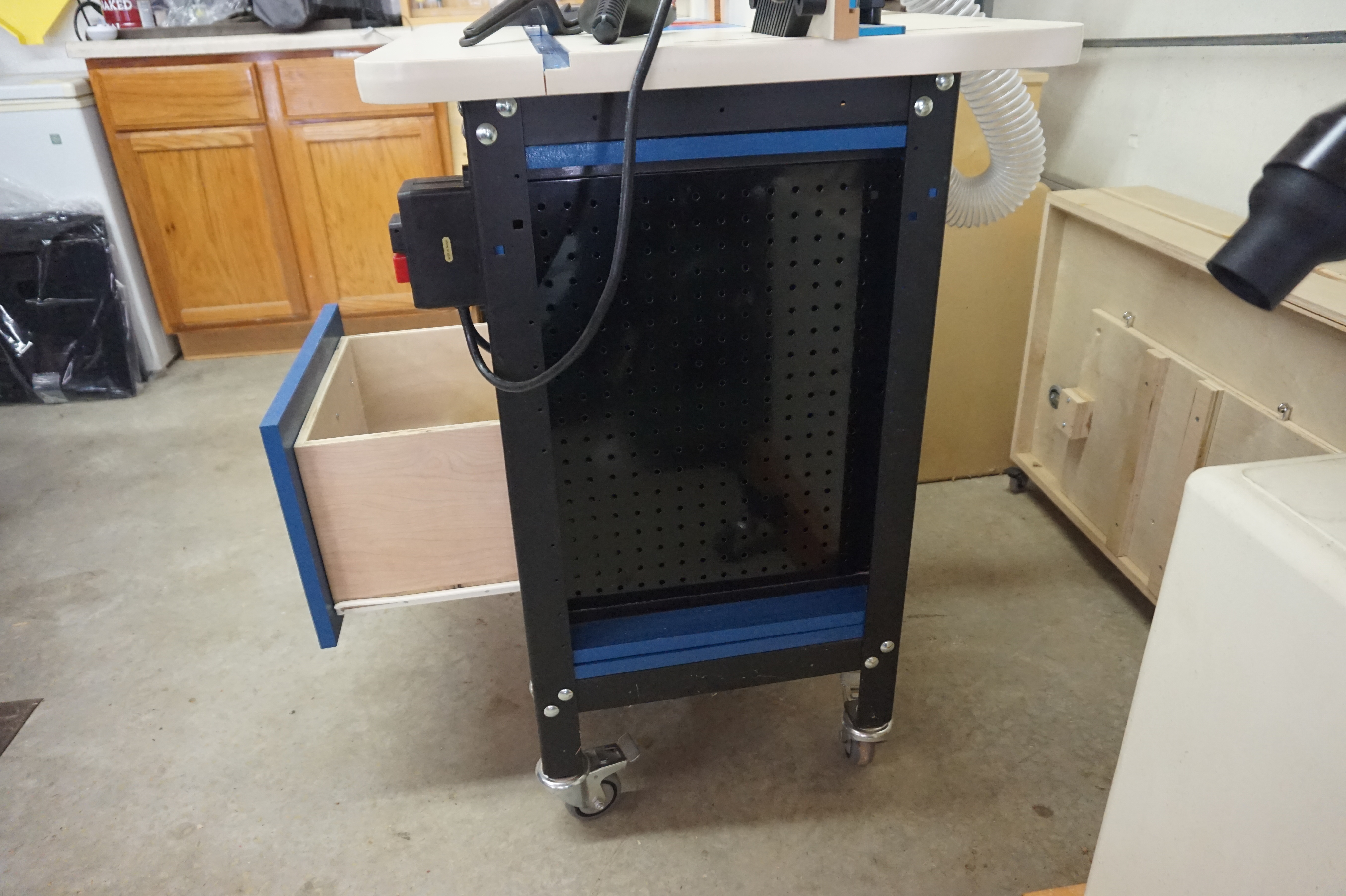 I ordered some hooks and bins to store accessories. By happy coincidence, the slots on the featherboards are exactly 6" on center, so I can hang them on hooks when not in use.
One mistake I made was that I didn't allow for the kerf on one cut and ended up making the center box 1/8th" too narrow. It wouldn't have been a problem except I had already made the drawer. I didn't have another panel to replace the one I miscut, so I just went ahead and finished the box and cut a 1/16th" rabbet on each side of the drawer to accommodate the drawer slide.
Aside from the added storage, this adds a lot of mass to the table. It feels much more substantial now.
Last edited: