16 inch wide drum, open ended so you could do 32 inch wide stock. you can see from picture that its not on the factory stand. i had it on a shop made stand but i have the factory stand as well. Comes with a couple rolls of sand paper.
i can leave the stand disassembled for transport or put the stand back together for you. the stand has locking castors built in.
motors work well. i have had a little trouble getting the feed belt to track perfectly. i am guessing someone with a little more time could tweak settings without issue.
UPDATE: of late i have gotten it to track straight and we can run some test boards if you are interested.
$525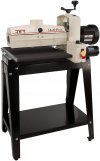 Last edited: