Several people have asked me how I get such "tight" miter and butt joints with inlay bandings, so I thought I would share my procedure. Maybe there is a better, or an easier way, but I have had excellent results this way. Maybe someone out there knows an easier or more efficient way.
I fashioned a small miter box, just for doing inlay bandings and stringing. I use a small (6") Japanese pull saw. This is 3/8" wide redheart banding in this example.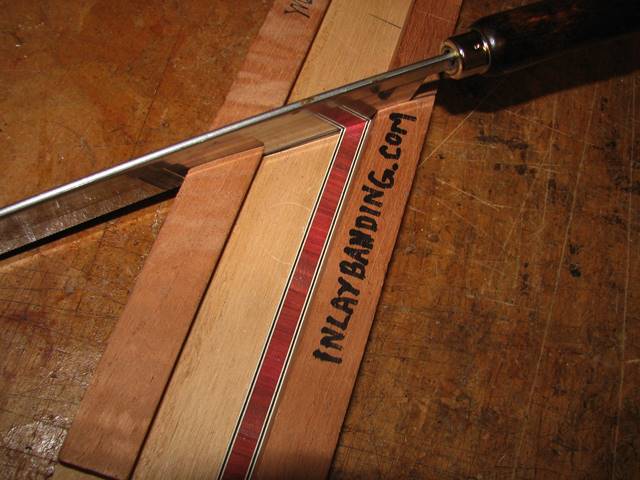 Miter cut the banding slightly long using a small miter box or just a knife. At this point, he miter does not need to be perfect. I try to cut it about 1/64" too long.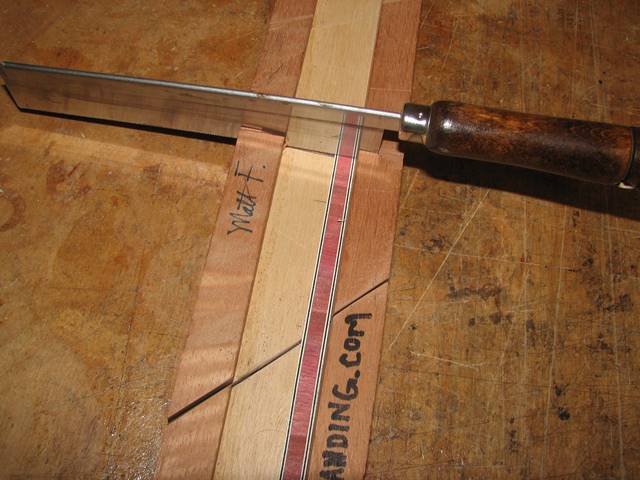 After you cut the inlay banding on the miter box, take a piece of scrap wood or plywood (I used 3/4" plywood as shown below) with a straight edge.
Rout channels at 45 and 90 degrees - the width of the banding you are inlaying.
Put the banding in the channel, hold it tightly, and using a block of wood with sandpaper (I used 150 grit) glued to it, sand the edge of the banding and "sneak up" to the perfect fit, every time.