Preferences for bow saws for pruning? I'm not taking down a forest, but just some light pruning around the yard.
Simple fiskers for $11

Or bahco for $28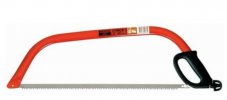 Or another brand?
I've only used one of these when cutting down Christmas trees. Does the handle really make that big of a difference? I know bahco is a recommended file brand, but does this also translate to saw blade quality?