A heavy duty, long, narrow workbench w/ two vises. Lots of ways to modify this plan to suit individual needs.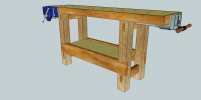 NOTE:
I got this basic plan from someone (I can't remember who) and converted it into a SketchUp model. If this is your original idea, please claim it as such and take credit for it. I'm not trying to claim it as my own.
UPDATE:
Mike Davis let me know this was his original plan. Thank you Mike.